What's in my Bed Bag
Boots and socks

Sweat pants and jacket

short sleeved tee shirt and long sleeved turtleneck shirt

rain poncho

wool cap

waterproof hat (Tilly hat)

dust mask

goggles

gloves - both nitrile and wool

hard hat

fixed blade knife

whistle

tube tent

2 mylar blankets

1 "airline style" blanket (soft and cuddly)

lantern

umbrella

fire starting kit

2 bottles water

2 emergency food bars

1 bag lemon drops (a necessity!)

mini-first aid kit

purse pack (with meds, etc)

flashlight (with batteries in a separate bag)

small hand cranked lantern


key to the garden shed (where I keep tents, other e-prep items)
Use this list as a starting point for creating your own, individualized bag.
The Barebones Car List

Some of these priority items may need to be rotated regularly, while some may stay forever...or until needed.

1. Seat belt cutter and tool with which to break
the windshield or window - in an accident, seat belts may Jam and refuse to unbuckle. Doors may also buckle and Be unable to be opened. One does not want to be trapped
in a car.

2. Small first aid kit

3. Water. Lots of water.

4. Emergency food – Stock foods that don't require cooking, such as high energy bars, fruit roll-ups, tuna crackers with cheese, and chicken or beef jerky. Pea nut butter is the best item for emergencies. It doesn't require cooking, tastes great, and has lots of calories. Incidentally, remember that salty or dried foods will increase your thirst. Make sure you have plenty of water available.

5. Emergency blankets – If you don't have room for regular blankets, at least tuck a few Mylar emergency blankets into your glove box.

6. Purse pack with individualized items - including any prescription medications needed

7. Flashlight - Carry extra batteries, or purchase a solar powered or hand-cranked light. Some flash lights today offer all three power methods. Make sure whatever flashlight you purchase uses LED lights. They last longer and use less power.

8. Emergency radio - purchase a radio that offers several power options: batteries, wind-up or crank, and or solar powered. Many today also have a cell phone charger attachment as well.

9. Emergency contact information

10. Car kit -with jumper cables, flares and other items mentioned above.

11. Small gas can - if you run out of gas, one major problem is finding a gas can. I've found that a gas can purchased at Wal-Mart prior to an emergency is much less expensive than the same type of can purchased on the road when you've run out of fuel! Incidentally, please develop the habit of driving on the top half of your gas tank. Always refill your tank when it hits the halfway mark. Never drive on the bottom half. That's simply asking for trouble.

Note: water bottles degrade in heat, allowing chemicals from the plastic to contaminate the water. Best containers for water are those made of stainless steel. Food also deteriorates in the hot interior of a car, so these items must be rotated regularly.
Purse Packs
A purse pack is easily made from a pot holder, twelve snack bags, and a button with a shank. It's best if the pot holder is at least eight inches long and has the loop in the center.

Fold the pot holder in half and mark the center.


Position a snack bag so the end is just over the center mark and sew it to the pad with a zigzag stitch.

Turn the pad and attach another snack bag to the other side.

Continue until you have twelve bags sewed onto the pot holder.

Next, sew a button with a shank in the center of the pot holder, opposite the loop.

Voila! You have created a purse pack!
Fill your purse pack with practical items that would come in handy not only in an emergency but during everyday inconveniences as well.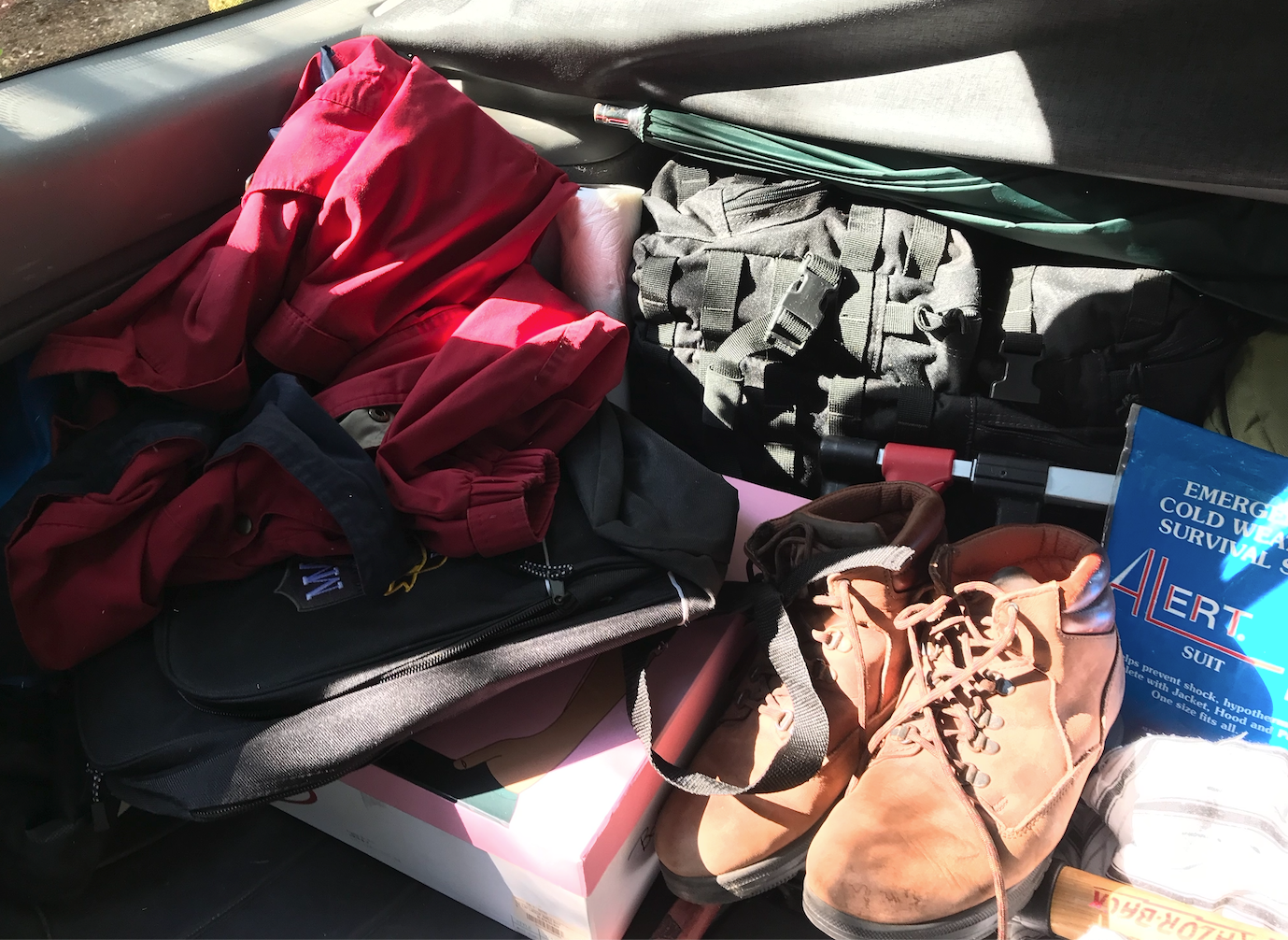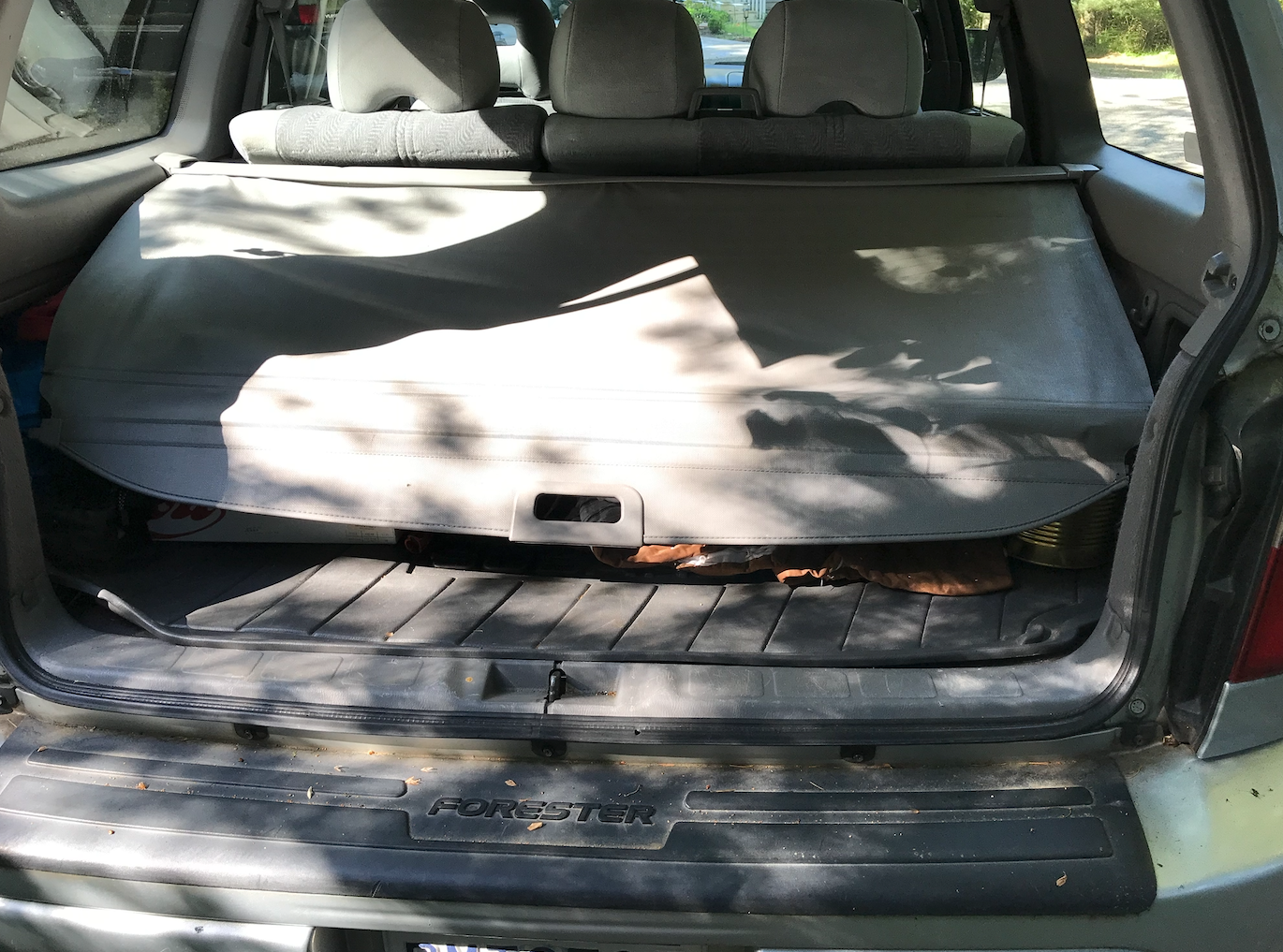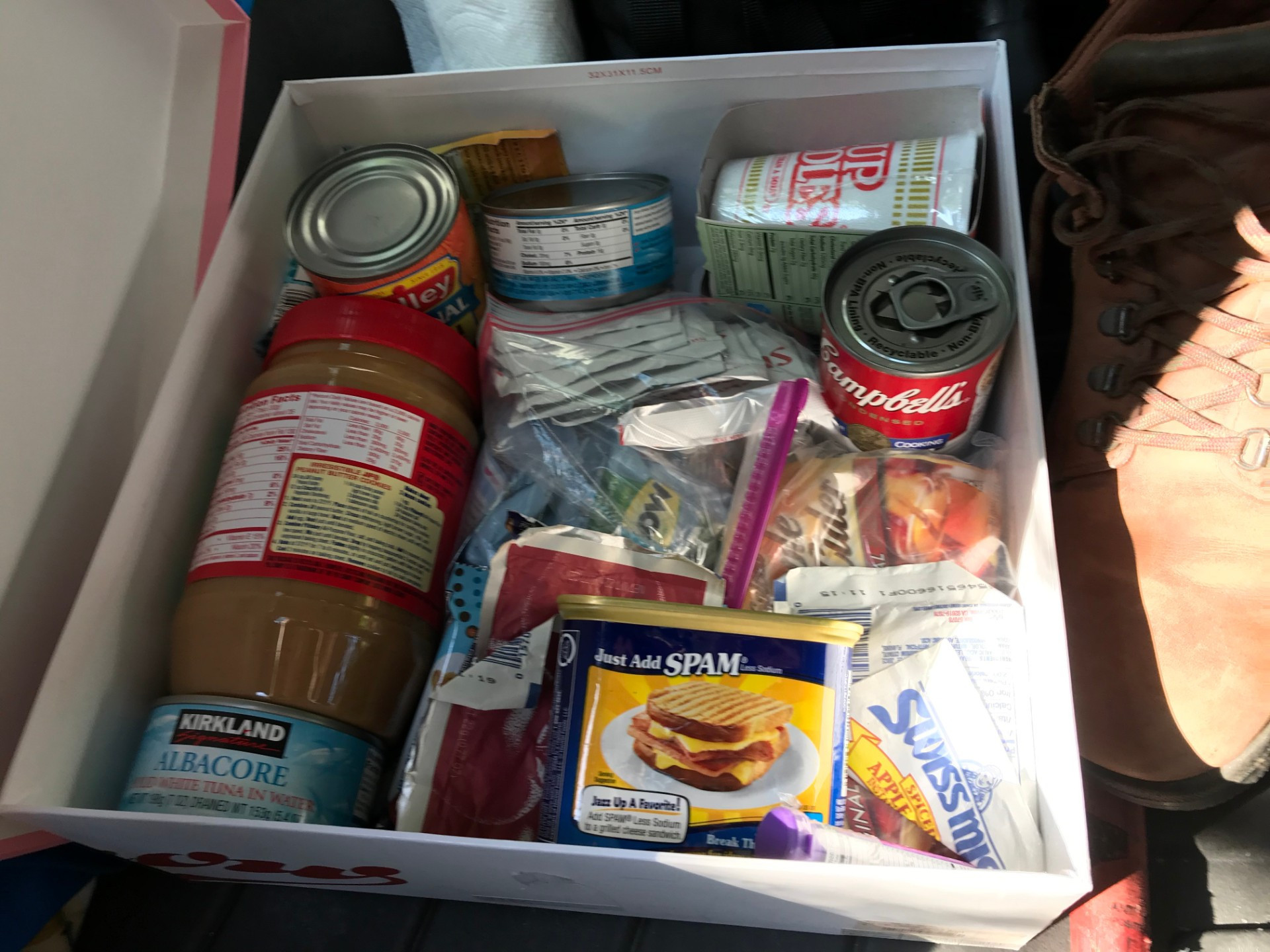 Purse Pack Contents
Fingernail Clippers

Medicine




Parachute Cord Bracelet

Chapstick

Bandaids

Fingernail Files

Waterproof Matches

Can Opener

Whistle

Antiseptic Wipes

2 matches together wrapped in TP and dipped in Wax as a fire starter

Light O Fire Starter

Cold Medicine

Cough Drops

Small scissors

Emery Boards

Anti Diarrhea medicine

Deep Blue Rub

Soap

Pain Patches

Pain Cream

Small knife
Purse Packs are in the following places

Purse

Bed Bag
CERT Bag
Purse
72 Hour Pack
Get Out of Dodge
Glove Compartment
3 in School Bag